WHIRLPOOL® LUXURY APPLIANCES
Nothing quite sets the tone for a new home than the appliances inside. When you build a home with FlynnBuilt, you will receive luxury appliances from Whirlpool®. Whirlpool® is an industry leader in home appliances and uses advanced technology while developing their products. At FlynnBuilt, we want each home to contain luxury appliances that maintain a sleek, modern appearance but are easy to use and energy efficient. This is why Whirlpool® is our team's go-to for home appliances.
Each home appliance designed by Whirlpool® contains a thoughtful design orchestrated with the user in mind. You will notice each appliance in your FlynnBuilt home fits seamlessly with the rest of the home's design and provides a luxury feel that other home builders would offer as an upgrade. Plus, their appliances are ENERGY STAR® qualified which is the government-backed symbol for energy efficient appliances that help to save money and protect the environment.
The FlynnBuilt team believes in equipping our homes with products that are energy-efficient and keep the wellbeing of our environment in mind. The Whirlpool® Corporation has committed themselves to providing sustainable appliances for almost 50 years. Their goal behind each product is to produce high-performance appliances that also conserve earth's energy and resources. The company has delivered an extremely positive impact by prioritizing appliances that keep our planet's wellbeing as the main goal in each product design. Whirlpool®'s commitment to the environment is a key reason why FlynnBuilt chooses to use their appliances.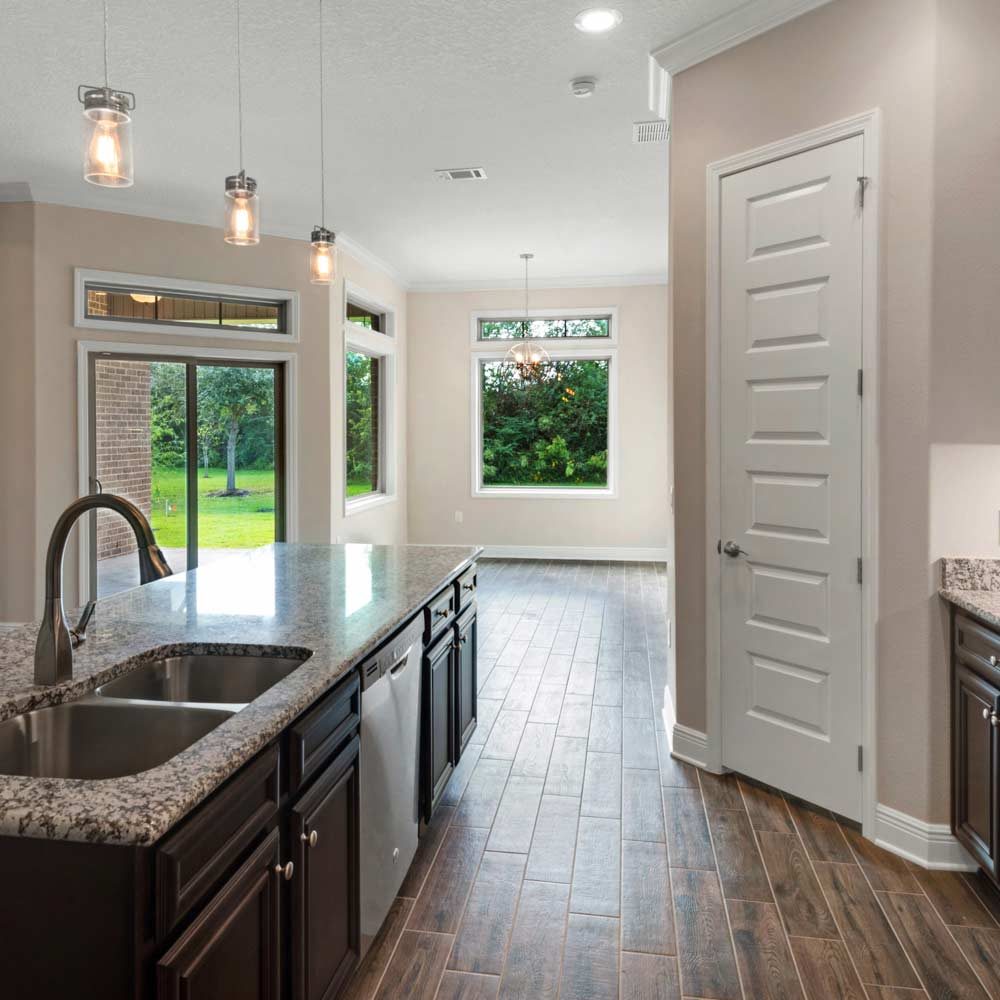 If you have ever shopped for home appliances before, then you have probably searched for crucial components like performance and style. Whirlpool® has earned their stripes when it comes to creating leading-edge home appliances that help you manage your home more efficiently. On top of that, each appliance's design fits the style of any home.

Whirlpool® appliances include technology that responds to the needs of your meals, foods, dishes and other items. By having the ability to adapt to various situations, it allows sensors in the products the ability to adjust water levels for the best clean possible or measure moisture content for a better baking experience. Say hello to more flavorful foods and evenly cooked meals. Say goodbye to running the dishwasher twice to get out those pesky food remains.
Benefits of Whirlpool® appliances include:
They are easy to use while maintaining some of the top technical advances for appliances in the industry.
They meet strict safety, functional and hygienic tests.
They are reliable and can be expected to last in a home for an extended period of time.


FlynnBuilt Home Appliance Difference
At FlynnBuilt, we take pride in offering our homeowners top-of-the-line products that other builders would charge extra for. Using Whirlpool® luxury appliances rather than a cheaper brand plays a key role in making your dream home a reality. By having your home come equipped with luxury appliances, you can kick the fear factor of having to replace them in a few years aside. Plus, you don't have to worry about appliances not fitting with the rest of your home's seamless design.
By using Whirlpool®, it helps to uphold the FlynnBuilt promise by providing homeowners with the most advanced appliances that will offer greater results. In addition, due to the advanced technology, Whirlpool® appliances are able to offer a more energy efficient experience by using less water and energy. Appliances are ENERGY STAR® qualified which means they deliver eco-efficient operations that exceed government standards, allowing you the peace of mind knowing your household appliances are built with the environment in mind.
FlynnBuilt homes include luxury appliances from Whirlpool® that are energy-efficient, high quality and maintain a sleek home design. Contact our team today for more information about our designs and designer features!