When it comes to pest control, pests have truly earned their name. At Flynn Built, we understand how stressful and annoying dealing with them can be. For this reason, we design each home with a superior pest control system known as Taexx®. Taexx, the original Tubes in the Wall® system, creates a virtual barrier that helps keeps pests exactly where they should be – on the outside of your home.
The Taexx® system was designed and is installed by HomeTeam Pest Defense, who is an industry leader in providing superior pest control products. Each pest control home installation includes their 6-Point Advantage Service that is carried out by an experienced HomeTeam technician who has extensive knowledge of the installation and how the system works.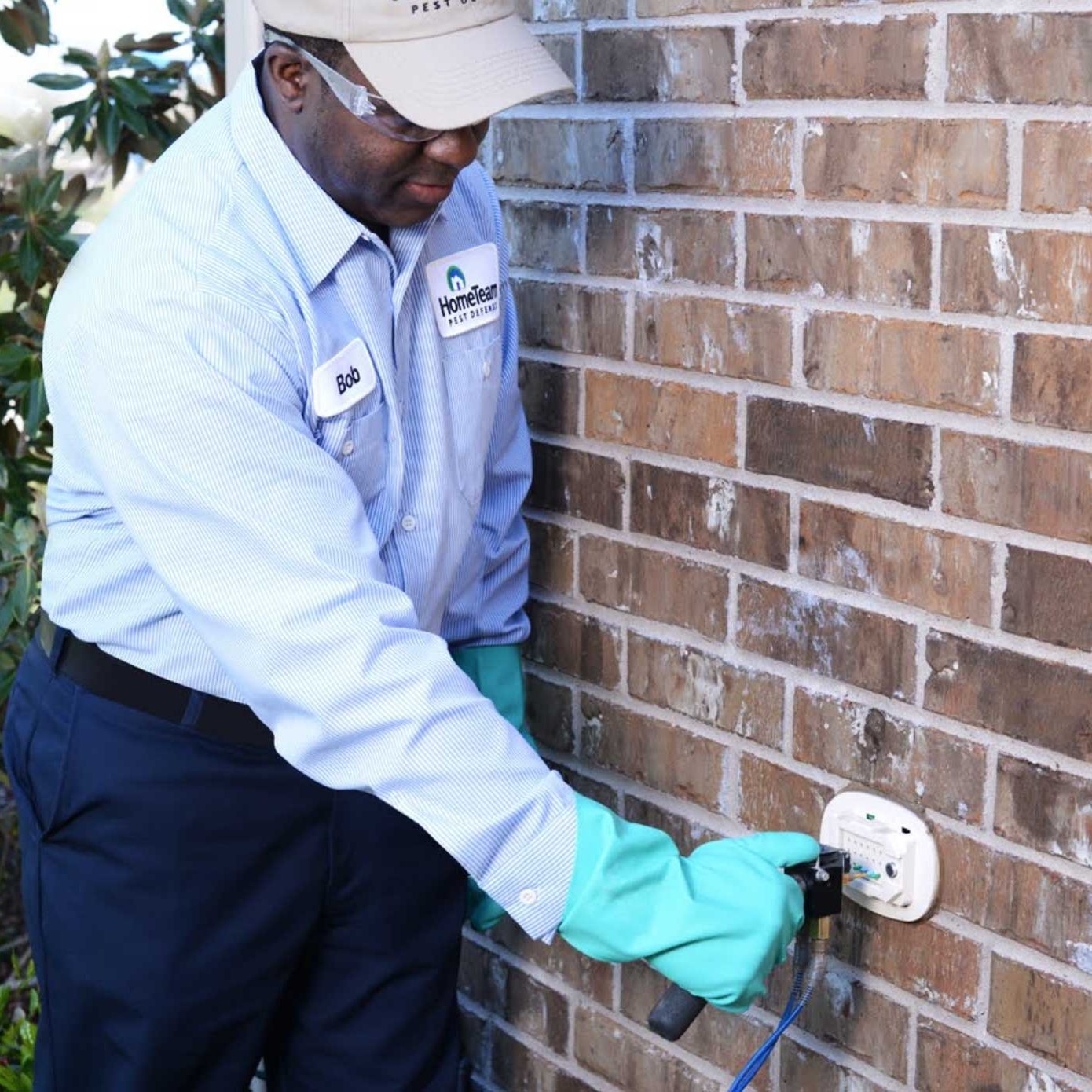 Taexx® – The Original Tubes in the Wall® System
Taexx® was designed to be a superior pest control system. The battle against unwanted pests can be a seemingly daunting one that many homeowners face. To combat this issue, Flynn Built homes include the Taexx® pest control system. This system is a combined network of tiny tubes that runs through designated walls in your Flynn Built home, striking pests where they are the most vulnerable. This pest control system essentially acts as a virtual barrier that keeps pests outside of your home, while also minimizing the exposure you and your family have to pest control materials.
We want each Flynn Built home to receive the most superior pest control services around, which is why each home includes the Taexx® system. It has proven to be effective against pest control by hitting bugs where they live, hide and breed – inside the walls of a home. Plus, the Taexx® materials are effective longer than standard pest control because they are not exposed to sunlight.
Benefits of having Taexx® pest control in your Flynn Built home include:
Convenient Service. After receiving your first home treatment, you don't have to be home. The team performs regularly scheduled service visits from outside.
Effective Pest Control Treatments. Unwanted pests are targeted inside the walls of the home, which is where they hide. Plus, pest control materials are applied to the outside of your home for added superior pest protection.
Experienced Technicians. HomeTeam service professionals have the knowledge and experience necessary to combat any pest issue your Flynn Built home may experience. The team is ready and willing to answer any questions you may have and is ready to provide professional pest control services to all Flynn Built homes.

Taking Control of Gulf Coast Pests
Pensacola and surrounding cities on the Gulf Coast know the battle against pests is not one to be taken lightly. Some of the most common pests that come to mind when thinking of protecting your beautiful, new Flynn Built home from invaders are sugar ants. If you have ever had a run-in with sugar ants, you know the damage they can cause. While they may not bite, they can quickly invade your home, especially the pantry. With the Taexx® system in your Flynn Built home, you can rest assured unwanted guests like sugar ants remain outside where they belong.
Each Taexx® system installed has the unique needs of the local, Gulf Coast climate in mind, as well as other seasonal factors. This means each superior pest control system installed is tailored with your most prominent pest needs in mind. The Taexx® system does not provide a "one size fits all" approach, which is why the system fits in with all other Flynn Built products. Taexx® is a registered trademark of HomeTeam Pest Defense, Inc.
With Flynn Built, you can guarantee pests will be the least of your worries due to the Taexx® Original Tubes in the Wall® System. Contact our team today to learn more about superior pest control services that are included in our homes!
*All photos and videos on this page are used with permission from HomeTeam Pest Defense, Inc.