Your home's siding serves a multitude of purposes. The main purpose of siding is to protect the home, foundation and items inside the house from weather elements like rain, wind and snow. Gulf Coast residents are no strangers to scorching summer days. Having the proper home siding protects your home from the Gulf Coast heat and keeps you cool inside. Homes that are built using poor siding can experience water damage which can then lead to structural damage, mold growth and a slew of other issues.
Because FlynnBuilt was designed with the Gulf Coast homeowner in mind, our team knows the importance of building homes with efficient siding that looks just as good as it protects. For this reason, we install James Hardie siding on every FlynnBuilt home. Using high-quality siding on our homes is important because they are exposed to Mother Nature each day. By using these products, we can offer our customers beautiful siding that can withstand numerous years of weather conditions.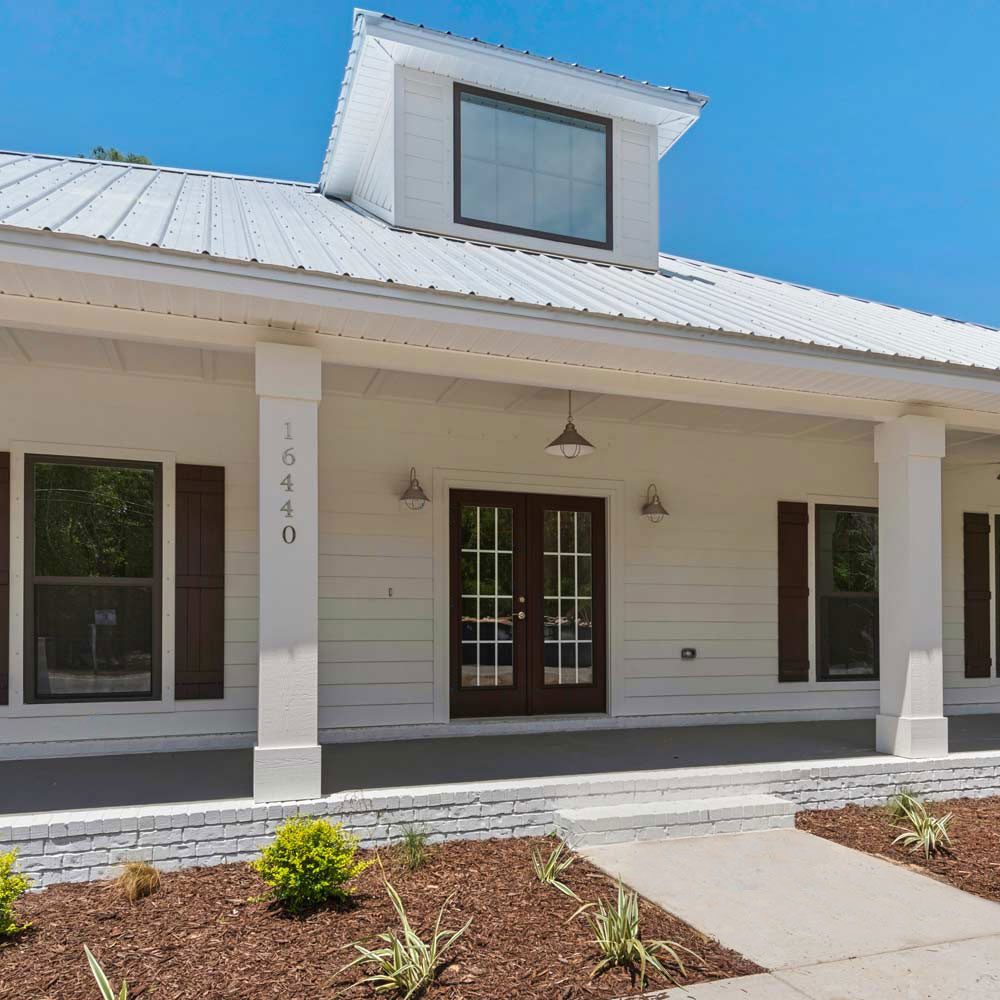 Vinyl Siding vs. James Hardie Siding – The Difference
Vinyl was created in the 1960s as an alternative to aluminum siding for homes. Although vinyl has many benefits when compared to aluminum, it also poses many limitations. When comparing vinyl siding to James Hardie siding, you will find that vinyl doesn't age well and becomes more brittle as it is exposed to weather elements. Vinyl siding can easily be damaged by wind debris. As a Gulf Coast resident with the potential of experiencing a hurricane, it is essential to have siding that can withstand the strongest winds.
James Hardie offers fiber siding that is far more durable than vinyl siding. In addition, James Hardie siding is up to five times thicker than vinyl allowing it to withstand strong winds, rains and other weather elements. Because the siding is a fiber cement product, it is thicker than vinyl and able to mimic the aesthetics of different sidings, such as wood. Therefore, James Hardie siding is provides ultimate home coverage, while also maintaining your home's unique design.
Additional benefits of having James Hardie siding on your FlynnBuilt home are:
Unlike vinyl siding, James Hardie fiber siding does not warp due to heat. Being able to survive hot summer days is key for Gulf Coast homes to maintain their appeal.
James Hardie siding resists damage from heat and does not ignite when exposed to a direct flame. It also will not contribute fuel to a fire as opposed to vinyl siding.
Siding Styles for any Dream Home
At FlynnBuilt, we choose products that set our homes apart from other builders. Rather than offering a cookie cutter approach, we offer our clients the opportunity to create a home that is just as unique as they are. By using James Hardie siding, our team fulfills every client's desire for a personal touch.

James Hardie Siding products include:
Hardieplank® Lap Siding - This siding helps to create a classic look that is timeless and full of colors and textures.
Hardieshingle® Siding - This siding style is often associated with a cottage style home. It offers a cedar shake look but requires less maintenance.
Hardiepanel® Vertical Siding - This siding style provides a discreet look of simple, vertical lines and is perfect for those who are shooting for the modern or farmhouse look.
Craftsman, Victorian, Modern, Farmhouse – Whatever your dream home style may be, the team at FlynnBuilt has access to the siding needed to create the look. In addition to providing a stunning look that is sure to catch the eye of anyone who passes by, James Hardie siding will protect your home from harsh weather elements.
Your home should be a reflection of you. Build your dream home with the team at FlynnBuilt today.