At Flynn Built, we don't just want our home fixtures to look good. We want them to work efficiently and last a lifetime. On top of that, we want each fixture to maintain a high level of protection for our environment and to be as eco-friendly as possible. For this reason, every home we build comes equipped with Delta fixtures. The Delta brand is a leading innovator when it comes to the way homeowners use water. Not only do Delta fixtures offer your Flynn Built home a beautiful design, but they have also been built to last and are eco-efficient.
Delta fixtures consist of high-quality designs and even better features that add a simple "wow" factor to your home. Because of their commitment to providing innovative fixtures, Delta has been named the official faucet brand of the Southern Living test kitchen. Having Delta fixtures in your Flynn Built home changes the way you experience water every day!
All Delta products are designed around the belief that water has the power to transform the way people feel every day. Their goal has been to create faucets that maintain a beautiful design while making tasks easier. Delta fixtures come in a large variety of finishes, shapes and sizes which offer Flynn Built homeowners the capability to maintain their home's design. Delta faucet fixtures include single-handed, widespread, center-set, pull-down and multiple other designs fit for your ideal kitchen sink.
Delta has created SpotShield Technology for fixtures which allows your Flynn Built home's faucet or shower to remain cleaner for an extended period of time by resisting water spots and fingerprints. In addition, each fixture's finish has antimicrobial protection that fights against stains and odors which cause microbial growth on the faucet.
Another innovative Delta fixture product includes their H20kinetic Shower. The H20kinetic shower uses technology that creates a shower experience unlike any other you have had before. Each shower head and hand shower consists of an internal system. This internal system allows you to control the speed, movement and even the size of the droplets coming from the shower. In turn, this allows you to save water while experiencing a dousing shower that is sure to make you feel relaxed.
Bathroom designs by Delta include lavatory faucets, bathtub drains, toilets, shower heads, soap dispensers and more. Whatever feature you have for in mind for the bathroom in your Flynn Built home, Delta has a product to fit.
To maintain the Flynn Built promise of building homes unlike traditional builders, we offer Delta fixtures. By using Delta products throughout our homes, it allows us the capability to match your home's unique design with a high-quality product. Delta products can be used for a multitude of home designs like traditional, contemporary or transitional. All the while containing innovative technology and flowing seamlessly with the rest of your home design.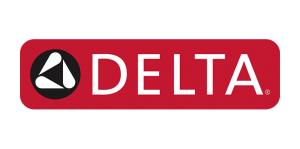 Delta has been the recipient of many awards in their industry throughout the years. In 2015, they received the WaterSense® Sustained Excellence Award due to the company's commitment to adhere to the U.S. Environmental Protection Agency standards for water conservation. Part of Flynn Built's choice to use Delta products is due to their pledge of creating products for homeowners that are water efficient and built to last.
Additionally, Delta fixtures are created right here in the United States. They offer over 4,500 products that are compliant with the Buy American Act, and one hundred percent of Delta's DIAMOND™ Seal Technology is created in Jackson, Tennessee.
Contact Flynn Built to learn more about Delta fixtures or to begin building your dream home!